Part 1: Lessons from Finland
This post examines the purpose of education, the skills required for the future, and the Finnish innovations preparing students for an ever-changing world.
Bali, Indonesia. Day 79.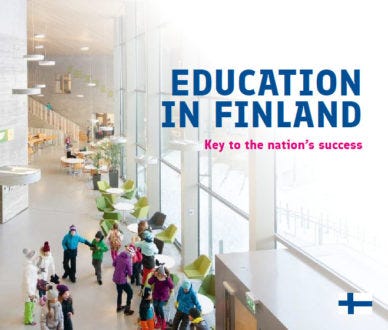 Despite the motorbiking, surfing, and beachside sunset gazing I've been doing this week, Finland is still on my mind. It has been pretty much since I became with enamored with education. For anybody that's studied the global educational landscape in recent years, it's hard not to have heard about the small Nordic country. Finland has received tremendous international attention ever since they shocked the world — and perhaps themselves — with their impressive early 2000s Programme for International Student Assessment (PISA) results. But what intrigued me most is that they did this while breaking so many traditional norms with regards to testing, free-time, student-teacher relationships, system organization, and more. Like any country in the world, they care about their PISA ranking, but unlike other top dogs, they don't teach to the test.
There's been some anxiety about their recent slip in scores compared to Asian countries like Singapore, Hong Kong, and Japan, but when students in these places don't sleep, lack well-being, and perceive their life worth by a single mark, is it worth it to keep up? Is this test even a good indicator of learning? To explore these questions is to explore the very purpose of education. There's surely some merit to the idea that PISA represent one's ability to critically think and solve complex problems, but there's also truth to the fact that it reflects rote learning, memorization, and testing ability. For some these are great indicators and outcomes of learning, but for Finland it goes deeper.
Education is not only about developing traditional cognitive processes, it is also about learning how to learn and the cultivation of creativity, empathy, self-efficacy, and well-being. These are skills required for the future and that aren't measured by PISA. I could pull up somewhat subjective indicators like the Global Innovation Index or World Happiness Report to prove Finland's cultivation of these competencies, but frankly I love Brene Brown's two cents, "When it comes to education, if you can measure it, it probably doesn't matter." But if you're looking for more tangible evidence about what does matter and should be developed in school, soak in the below infographic from the Future of Jobs report.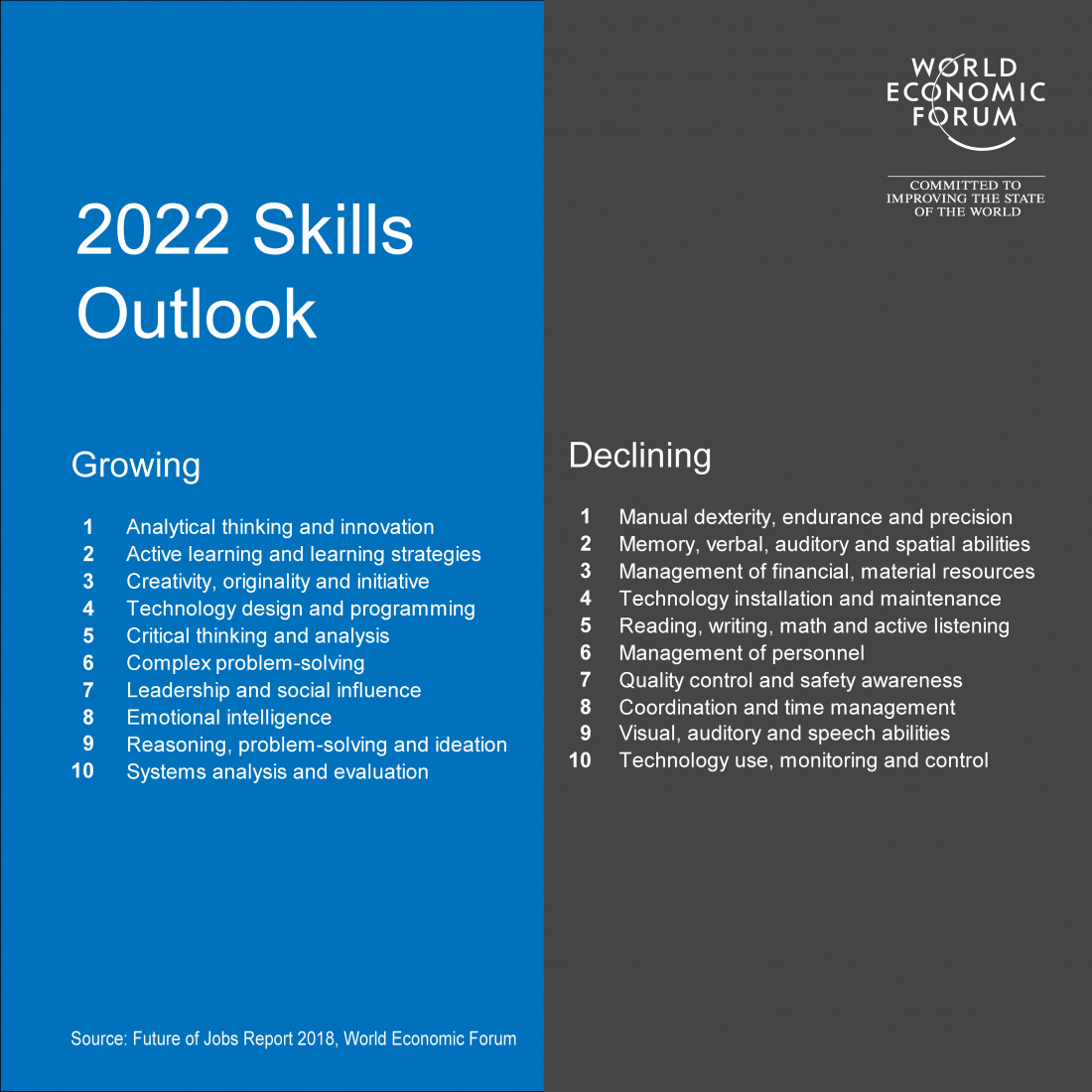 Interestingly enough, Singapore, who dominated the latest PISA rankings, seems to have taken this global shift to heart. In a recent article, it was revealed that the Ministry of Education will no longer rank children by exam results. They noted that learning is not a competition; it should encourage individuals to concentrate on their own development. They are also taking cues from Finland as they are implementing new policies aimed at fostering creativity, self-awareness, and social development. These "human-centered" or life skills will better prepare their students for an incredibly complex and ever-changing world. Perhaps these changes will also inspire a greater love for learning, which the Future of Jobs report notes will increasingly become important to keep up in the future.
While Finland is by no means perfect, they are doing an excellent job of equipping their students with these skills relative to the rest of the world. The big question then becomes, why? The international literature has extensively focused on the following factors:
Their new "phenomenon-based learning" approach which builds cross-cutting competencies and enables students to make broad connections through interdisciplinary inquiries.

Their extremely high quality teachers which are required to have master's degrees — at the state's expense of course.

Their emphasis on putting more resources into schools that are most vulnerable. As the Mayor of Helsinki put it at a dinner I attended, "Finland's goal is not to create the best, best schools, it is to create the best, worst schools."

Their culture of trust across the national, district, school, and familial levels. Decision making is allocated to local authorities — comprised of an array of educational stakeholders — in order to plan curriculum, organize general assessment, and use this data for evaluating schools and allocating resources. There are also no rankings, inspectors, national exams, and hardly any private tutoring in the compulsory system.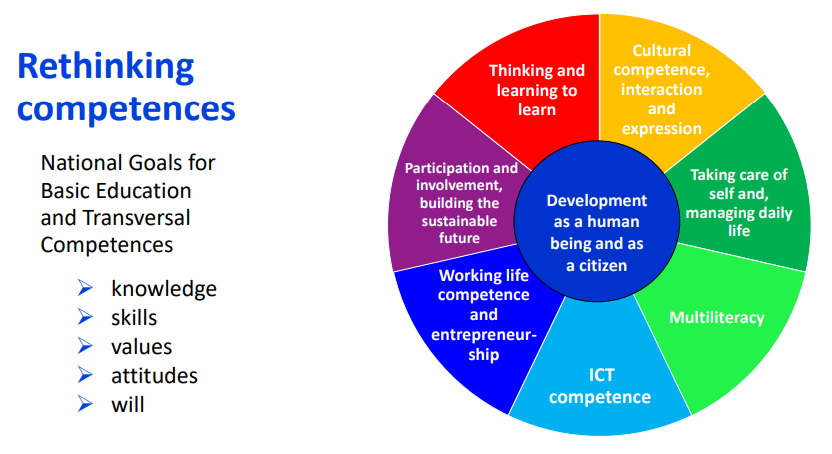 While these aspects are undoubtedly significant, I do not want to regurgitate information that is widely accessible in the thousands of articles named something like, "Secrets to Finnish Education." Instead, I want to focus on several lesser talked about factors that I believe are foundational to Finland's ability to keep their education system relevant in an ever-changing world:
A startup ecosystem that is fostering innovations building life skills highlighted in the Future of Jobs report.

The nature of their teaching training, beyond the fact that it is a master's degree program — which doesn't reveal much to me.

The wide-reaching collaboration networks that are critical to their culture of trust, teacher training program, and their ability to identify, test, and scale innovations.
Part one of this two-part series will focus in particular on the startups facilitating the aforementioned life skills, the education accelerator that developed them, and the collaboration network that underlies their success.
Mightifier
Very few people I've met in education have denied the importance of social emotional learning (SEL) and a positive school culture, especially as these themes have gained increasing attention in recent years, but there tends to be some uncertainty about how to develop them. In some cases, schools will put these concepts in their values, but their actions won't align with their purported intentions. Mightifier can help with this. The award-winning, beautifully designed digital tool boosts social emotional skills and school culture through peer-to-peer feedback on character strengths.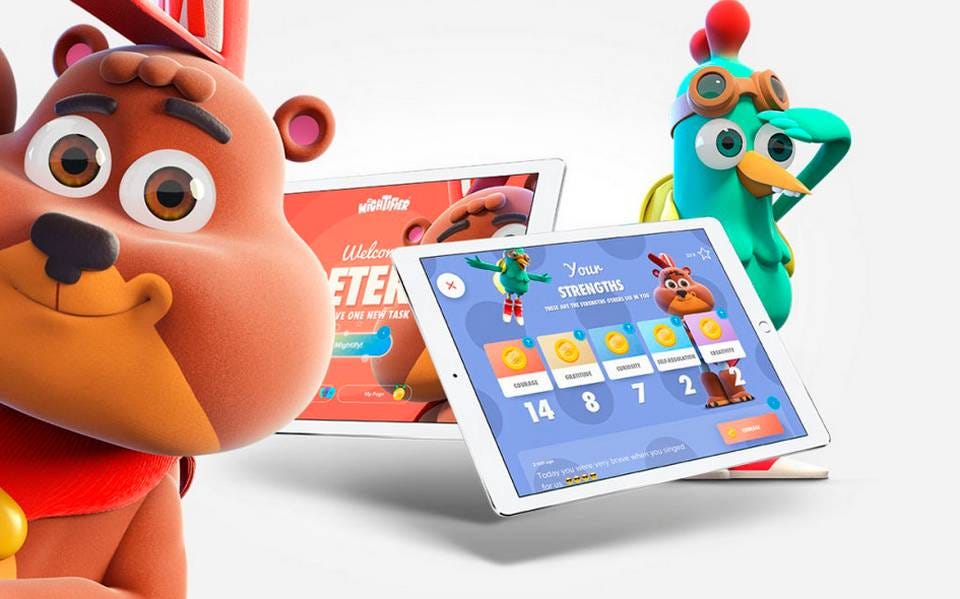 It is an incredibly simple, yet powerful concept that kids adore and that can easily be integrated into existing school routines. Here's how it works. When classes, schools, or entire cities buy licenses, they are given access to teaching materials and digital tools for facilitating peer feedback and assessing well-being. Educators can use the resources as a basis for entire lesson plans or they can use several minutes in an existing class to integrate the tools.
To setup the feedback session, teachers will create a prompt and select 10 character strengths that their students can choose from. For instance, students may be asked to "describe a peer's highlights" by selecting and explaining the rationale behind 1 or 2 character strengths such as persistence or social intelligence. As the tool is primarily intended for elementary aged children, their character vocabulary is trained before providing feedback. Once the teacher reviews and determines that all comments were positive, they publish the results and students can read the heartwarming feedback on their strength profile. As for the wellbeing pulse, which provides a more holistic assessment of the class or entire community, students anonymously answer a variety of questions such as:
How are you feeling? Do you enjoy school? How awesome is class? Is it a friendly environment? Have you been bullied? Have you seen bullying? How many friends do you have in the class? Etc.
The team explained that leaders can make data driven decisions based on class, school, and district wellbeing dashboards. It also helps in assessing the progression of wellbeing over a set period of time. One issue they were grappling with however was whether or not teachers should be able to see student responses to these sensitive questions. On the one hand, this could compromise a sense of trust and lead students to answer untruthfully. On the other hand, perhaps educators should be able to identify students who need help as a result of bullying, ostracization, or depression. While the pulse is currently anonymous, they are discussing possible modifications.
Another interesting thing we discussed was their development of a version suitable for older students and even adults in the workplace. Positive peer feedback remains critically important irrespective of age, but its delivery and facilitation must be adapted. I thought about scenarios of bringing this digital tool to tough urban environments and imagining how students would respond. While I think it is equally if not more important for pupils in this environment, I could easily see this being perceived as corny. This is often the biggest weakness I see with programs developing "soft skills." A pedagogical tool is only as powerful as a persons willingness to engage it. The Mightifier team understands this however and I have no doubt that they will continue to develop outstanding products. Just look at their recent success. After expanding across Europe and Asia, they recently announced a partnership with Sunburst Digital — an initiative designed to support SEL, mental health, and school safety — to bring the product to schools throughout the US!
Positive CV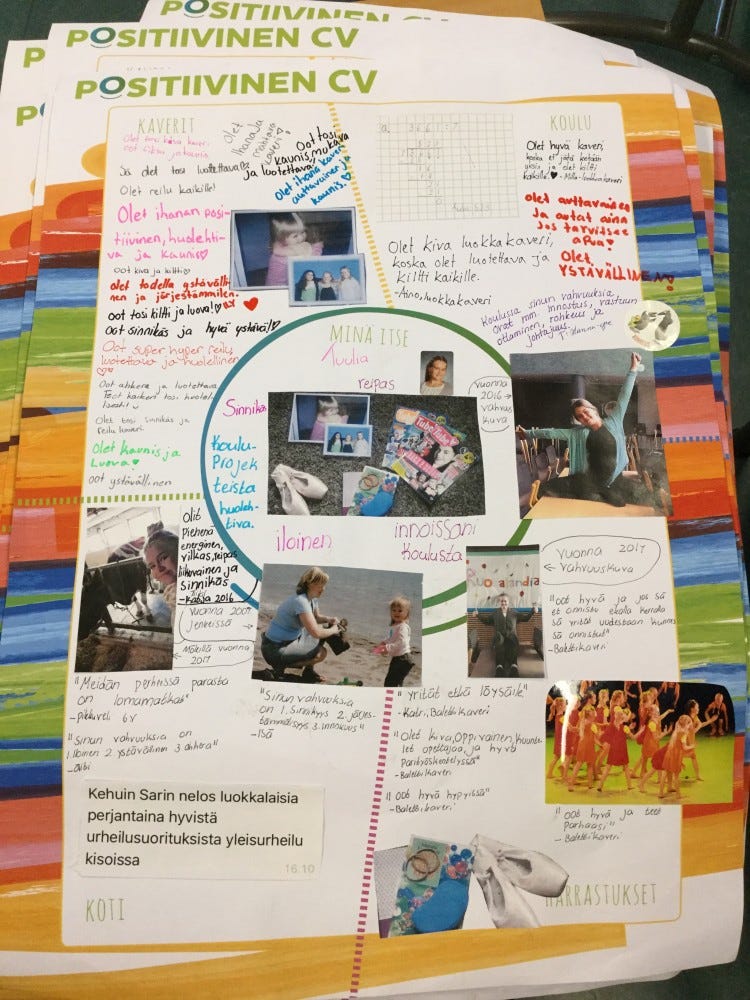 Like Mightifier, Positive CV (PCV) seeks to build social emotional skills like self-awareness, empathy, and confidence through positive feedback on character strengths. Differences exist however in that any actor can provide feedback in various environments such as at school, at home, and while enjoying hobbies. Another difference is that there is greater emphasis placed on the profile or report. It's unfortunate that so many students in our hyper-competitive world singularly view their worth by their grades or test scores, but PCV seeks to change this by providing a curriculum vitae (CV) of a broad range of skills. The impetus is that by recognizing and documenting their own strengths and the skills necessary to flourish, PCV can act as a guide for finding one's place in the world.
Some in the US may not be familiar with the term CV, which means "course of life" in Latin. It's similar to a resume, but tends to be more comprehensive and indicative of your entire career. Both tend to be somewhat of a surface level representation of your accomplishments and experiences however. One's degree or number of jobs can indicate one's preparedness for something, but when employers are increasingly asking for creativity, innovation, and character skills, a resume, traditional CV, or report card only reveals so much. PCV is not a replacement for these forms of evaluation; it's a tool to be used alongside them that has the potential to provide a more holistic representation of a person's being. While PCVs are currently created by hand, they are working on a digital version they describe as, "Instagram meets Positive Psychology to instruct 21st century skills."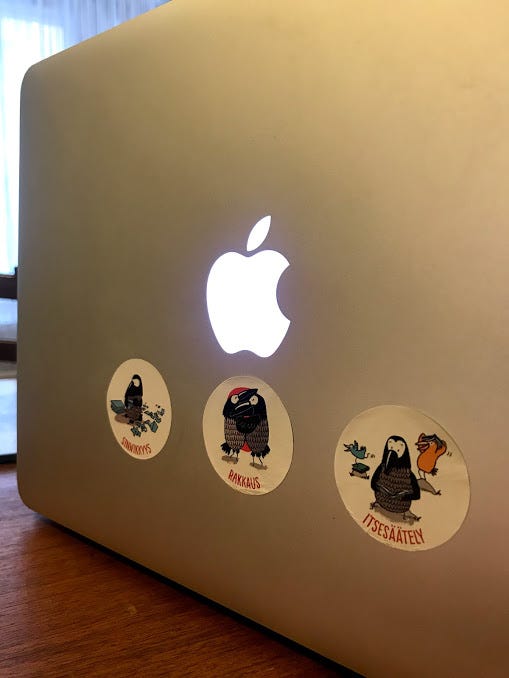 So how can these seemingly simplistic innovations better equip students with the skills needed to flourish? Both PCV and Mightifier are deeply rooted in the science of positive psychology — which includes the subcategories of emotional intelligence and character strengths. Positive psychology is defined as the "scientific study of the strengths that enable individuals and communities to thrive." Many of the strengths outlined in the research, such as self-awareness, self-control, empathy, leadership, and growth mindset, are also listed as skills "growing" in importance in the Future of Jobs diagram shown earlier. The positive tools PCV and Mightifier provide for recognizing, articulating, and developing these traits in oneself and with others are simple ways to unleash their power. Beyond the science, I will also say that being affirmed of your value simply feels amazing. At the end of my meeting with PCV's CEO, Kaisa, one of the nicest people in this world, she sparked an incredible smile on my face when she handed me three stickers of love, perseverance, and self-regulation — which I stuck on my laptop in the image above.
Lyfta
See previous post for details about the incredible Finnish EdTech company bringing immersive VR storyworlds into the classroom to humanize those across the world.
xEdu
It can be argued that xEdu is the world's leading education accelerator. Based in the heart of the city next to the University of Helsinki's Educational Sciences building, they work with established EdTech startups from product development to market entry. Lyfta, Mightifer, and Positive CV are just a few of the outstanding organizations that have gone through the intense 3-month program. What separates them from traditional accelerators is their focus on pedagogy and co-creation with schools. Finland is the perfect place for this to occur because of their high-quality teachers and ecosystem that enables collaboration between various levels and actors in the educational realm.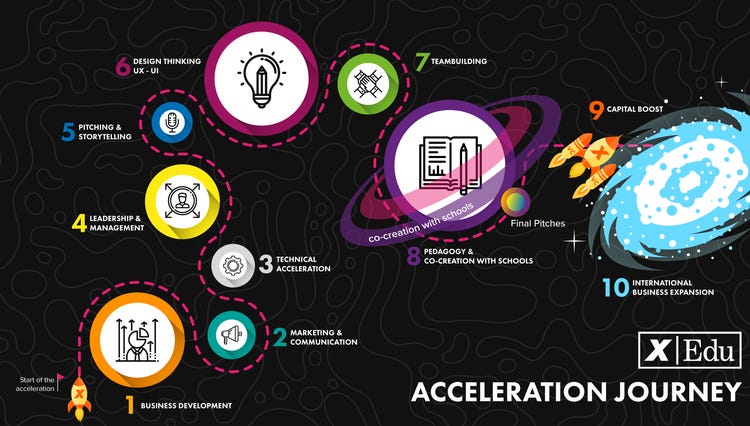 Oftentimes we hear stories of huge startups formed in isolation — think Google, Amazon, and Apple being built from a garage. But these are rarities. The popularization of the Design Thinking process in recent years has encouraged rapid prototyping of ideas and products in the real-world, but companies often lack the collaboration networks necessary to do this well. Put another way, to properly test your service you need to be able to enter and receive feedback in the environments in which it will operate. xEdu has enabled this to occur in the education space by creating an ecosystem where an array of actors work together to solve society's biggest issues. This differs from the competition and divide that frequently underlies free-market economies.
For instance, xEdu worked with the City of Espoo, Helsinki's neighbor, to develop the KYKY platform. This digital marketplace enabled school communities and EdTech companies to co-create products and services to support learning. In this platform, schools can inform the network of learning related developmental needs and companies can announce educational product ideas. Schools can then form agreements with the companies to enable them to test their idea in the community. This is emblematic of xEdu's "community driven startup scene," which program manager Anna Dementyeva says, is what most differentiates the accelerator. Startups not only have access to schools, ministries, experts, and investors in Finland and around the world, but also look to peers currently and formerly in the accelerator program for support. This sense of working with, not against each other for society's best interest is representative of the larger Finnish ecosystem and a basis for their strong capacity to innovate.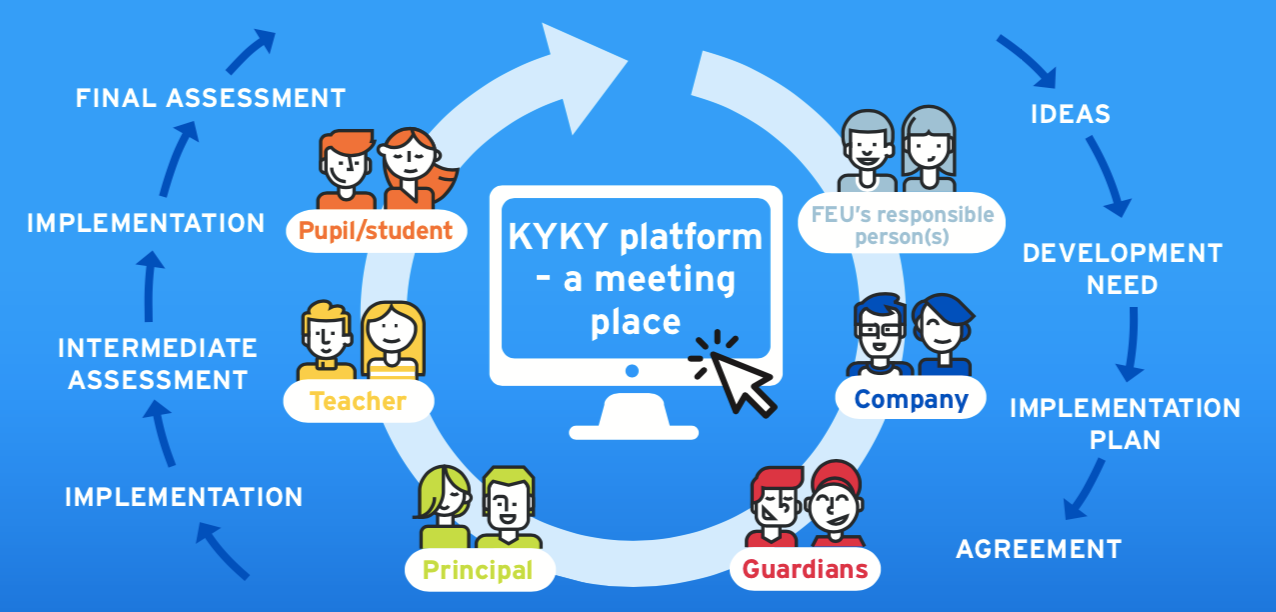 In part two, we will look at more systems level innovations created by the City of Helsinki, detail the teacher training program, and expand upon the collaboration networks that are paramount to Finland's culture of trust, educator quality, and ability to identify, test, and scale innovations.
---
If you enjoyed the post: please give it a like, leave a comment or question, and share it with others you think may be interested.
Thank you!
Joe